The TARA Hallowe'en Ceilidh
Saturday 26th October 2019
Wheatsheaf Hall, Wheatsheaf Lane (off South Lambeth Road) London SW8 2UP
·         7pm Doors 
·         7:30pm Dancing
·         10:30pm Carriages, ambulances, hearses
Tickets £10 ·  Fancy dress prizes ·  Bring your own drink ·  …and a little food to share on the buffet table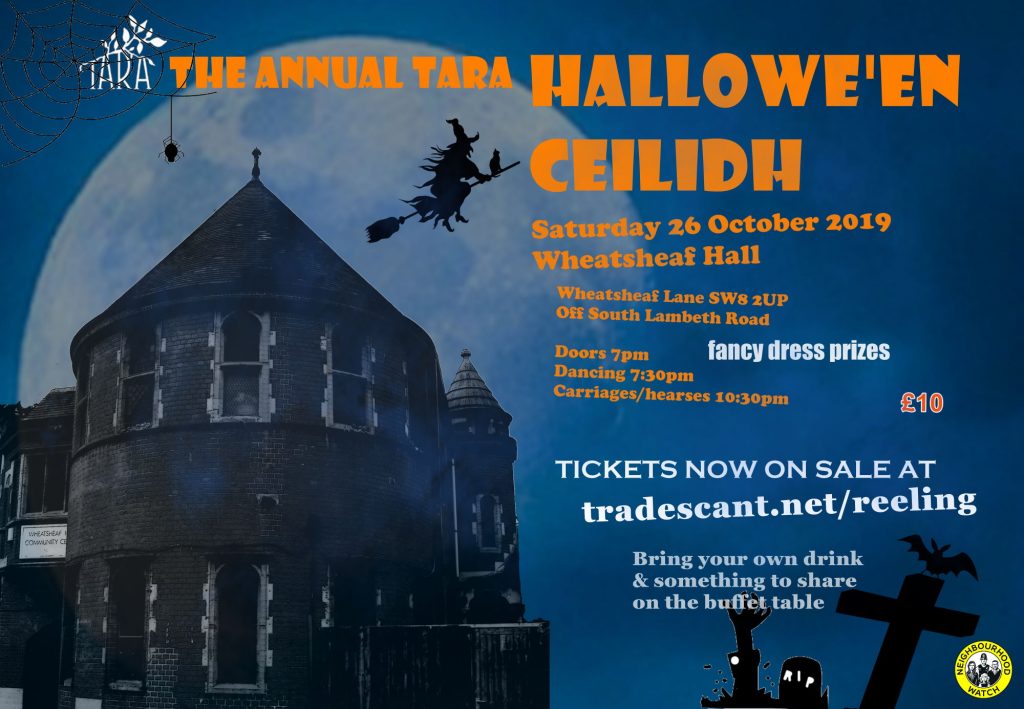 Buy your tickets online using Mastercard, Visa, AmEx or Paypal
FAQ Frequently asked (and therefore quite annoying) questions
Can I buy tickets on the door?
No, tickets must be bought in advance. We don't want to be faffing around with money and tickets when there's reeling and jigging to be done.
Do I need to know how to dance?
No. A caller explains the steps before each dance. No experience is necessary.
Do I have to wear fancy dress?
No, but you won't win any prizes either. Most people make a bit of an effort.
Is there a bar?
No, bring your own drink. We'll supply receptacles.
Do I have to bring food?
Traditionally,  everyone brings a contribution for the shared buffet table. This has always worked well in the past but if it's all a bit communist for your tastes, do your own thing.
What if I have food allergies?
Leave them at home. Seriously, though, eat at home. You must know the drill by now.
What about children?
Come one now, no-one wants to eat children. Oh, I see what you mean. Yes, children are admitted. £10. Same price as an adult on the basis that they use the same number of chairs (1).
Got any other questions?
We'd love to hear them. Bored of these ones. Email tara@tradescant.net
Photos from last year's event ...